Lunch is served Monday through Saturday, from 11 a.m. to 4 p.m.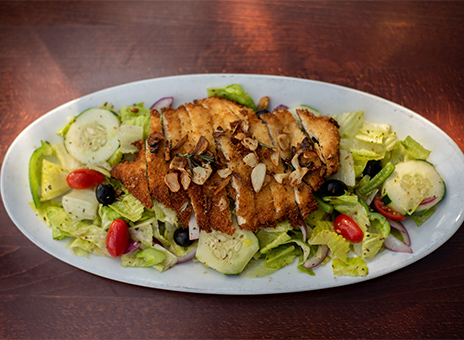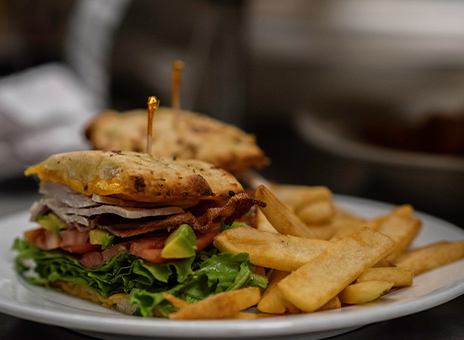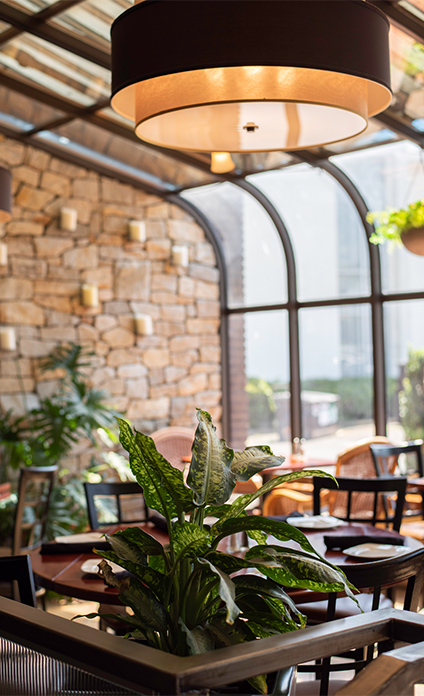 Lunchtime at San Marinos
Italian Lunch Restaurant
A midday meal means different things to different people. That's why San Marino Italian restaurant's lunch menu is wide reaching, with plenty of the Italian food favorites and homestyle pasta we're known for offered alongside everything from wraps, sandwiches and panini to half-pound burgers to entrée salads. We also offer daily specials for even more choices on our already extensive menu.
Lunchtime at San Marino can be as leisurely or efficient as you like, whether you're digging into a plate of penne Bolognese or grabbing a quick Cobb salad or grilled chicken Caesar wrap.
Pressed for time? Call your order in and we'll have it waiting for you or take your Italian to go and enjoy it at your home or office.
Burrata cheese (cream filled mozzarella) over arugula leaves and roasted red peppers topped with basil, oregano, seasoned fried bread crumbs and a balsamic glaze
$13.95
Grilled Italian sausage, sautéed broccoli rabe
$12.95
Sausage, Potatoes & Hot Peppers [HOT]
$11.95
Grilled Italian sausage, San Marino Italian fries & long hot peppers
$11.95
Stuffed with ricotta cheese and topped with mozzarella cheese and marinara sauce
$8.95
Sauteéd escarole, white beans, fresh tomato, olive oil, garlic, grilled bread
$9.95
House marinara & grilled lemon aioli
Napolitano – $13.95
Gorgonzola – $15.95
$10.95
Roasted on the half shell with bacon, peppers, onions & breadcrumbs
$8.95
House made fried mozzarella, marinara sauce
$7.50
Charcuterie Board - serves 2-4 people
$27.95
A rotating selection of exquisite meats, artisanal cheeses, pickled eggplant, imported  olives and Friselle bread
$27.95
Topped with mozzarella cheese
$5.50
Italian Long Hot Peppers [HOT]
$5.95
$5.95
Crisp romaine, caesar dressing, anchovies, shaved Parmesan, focaccia croutons
$8.50
Baby spinach with sliced pears & walnuts, goat cheese, dried cranberries & a balsamic glaze
$10.95
Romaine lettuce, tossed with celery, onions, green peppers, cucumbers, tomatoes and fresh spices; dressed with extra virgin olive oil, lemon and red
wine vinegar
$7.95
Grilled chicken, boiled egg, crumbled Bleu cheese, avocado, bacon & tomato on a bed of Romaine
$14.95
Pan seared salmon, chick peas, artichoke hearts, kalamata olives & tomatoes over Romaine dressed in olive oil and lemon
$17.95
Turkey, ham, Swiss cheese, tomatoes, red peppers and hard boiled egg on a bed of romaine
$9.95
Dried figs, lemon oil, pine nuts, shaved Parmesan
Add prosciutto – 2.00
$8.95
Italian Salad with Chicken Milanese
$14.95
Pan fried breaded chicken breast with rosemary and garlic over Romaine lettuce tossed with celery, red onions, olives, cucumbers, green peppers, tomatoes and fresh lemon vinaigrette 
$14.95
Grilled Chicken – 7.00
Grilled Shrimp – 9.75
Bistro Filet 6 0z – 8.50
Grilled Salmon – 8.95
Cajun Style – add 1.00
Cup of Soup Selections
Chicken Escarole | Pasta e Fagioli
Half Salad Selections
Traditional Caesar | Garden Salad | Spinach Salad
1/2 Sandwich Selections
Southwest Turkey | Pastrami Reuben | Tuna Salad Sandwich
$9.95
Sandwiches, Wraps, Grinders & Paninis
Served with choice of french fries, cole slaw or fruit salad
Battered & fried, tomato, lettuce and tartar sauce on a sesame roll
13.95
Grilled chicken topped with a red bean hummus spread, cheddar cheese, fresh spinach and red onion on grilled focaccia bread
$10.95
Grilled eggplant topped with fresh mozzarella, tomato & basil drizzled with olive oil on grilled focaccia bread
$9.95
Topped with sautéed onions and Swiss cheese on rye toast
$8.95
With mozzarella cheese and house sauce
$9.95
Meatball Parmesan Grinder
$9.95
With mozzarella cheese and house sauce
$9.95
Eggplant Parmesan Grinder
$8.95
With mozzarella cheese and house sauce
$8.95
Grilled sweet Italian sausage, fried hot peppers and Stella cheese
$11.95
Grilled Chicken Caesar Wrap
$8.95
Crisp romaine, caesar dressing, shaved Parmesan, grilled chicken rolled into a whole wheat wrap
$8.95
Grilled steak with mushrooms, onions and cheese
$12.95
Southwest Turkey Sandwich
$8.95
Turkey, cheddar cheese, apple smoked bacon, lettuce, tomato and avocado on focaccia bread
$8.95
Swiss cheese, lettuce, tomato and bacon on white, wheat or rye
$8.95
Grilled chicken, broccoli rabe and fresh mozzarella cheese
$9.95
Corned beef, Swiss cheese & sauerkraut on focaccia bread
$8.95
breaded cutlet topped with a sauté of garlic & sweet vinegar peppers
Veal Milanese add $2.00
$11.95
1/2 lb. patty
add cheese .75 extra
8.95
1/2 lb. patty with apple smoked bacon, grilled onions & cheddar cheese
$10.95
Served with garden salad
Sub a cup of soup - $1.00
House tomato sauce with Parmesan cheese & house made meatballs
$14.50
Mushrooms, onions, vodka, prosciutto, tomatoes, mascarpone cream, Parmesan
add grilled chicken – 6.00
add grilled shrimp – 9.75
$14.95
Hearty slow stewed tomatoes, chunky beef & pork sauce with a touch of cream
$15.95
Layered with ground beef, ricotta & mozzarella cheese, house tomato sauce
$15.95
House made stuffed with ricotta cheese locally made by Pasta Gallery
baked with mozzarella add 2.00
$13.95
Chicken, asparagus, mushrooms, artichoke hearts, sun-dried tomatoes, oil, garlic
Gluten Free Penne - add $2.00
$17.95
Rigatoni con Rabe with Sausage
$15.95
Tossed with diced broccoli rabe & sausage sautéed in garlic and oil
$15.95
Sautéed with garlic, olive oil, spices, crushed plum tomatoes served over a linguine bed – choice of mild or spicy
Mussels – 14.95
Clams – 15.95
Calamari – 15.95
Shrimp – 16.95
Combo of 2 – 16.95
Combo of 3 – 18.95
also available in a white sauce
$14.95
Served with garden salad
Sub a cup of soup - $1.00
Grilled Chicken & Broccoli Rabe
$15.95
$15.95
Crabmeat spinach stuffing, lemon butter, roasted vegetables
$14.95
Shrimp dipped in egg batter, sautéed in lemon, wine and butter; served over spinach
$17.95
Llemon-caper butter, roasted vegetables
$13.95
16 oz bone in Porterhouse pork chop, grilled then topped with hot and sweet vinegar peppers, garlic, oil & rosemary with roasted potato
$20.95
16 oz bone in Porterhouse pork chop, sautéed broccoli rabe in garlic & oil
$20.95
Crispy breaded with marinara sauce, melted mozzarella, Parmesan cheese, penne pasta
$12.95
Crispy breaded with house tomato sauce, melted mozzarella, Parmesan cheese, penne pasta 
$14.95
Crispy breaded with house tomato sauce, melted mozzarella, Parmesan cheese, penne pasta
$14.95
*Prices subject to change